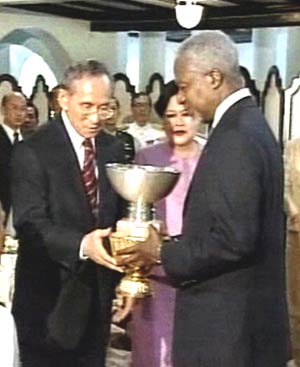 Annan honours His Majesty's life work  
UN chief, Prem pay tribute to commitment to betterment of the people's lot
The United Nations yesterday commenced the grand Diamond Jubilee celebration of His Majesty the King by bestowing on him the inaugural Human Develop-ment Lifetime Achievement Award for his dedication to human development.
"As the world's 'Develop-ment King', Your Majesty has reached out to the poorest and the most vulnerable people of Thailand regardless of their status, ethnicity or religion, listened to their problems, and empowered them to take their lives in their own hands," UN chief Kofi Annan said during the presentation.
Annan, as well as his wife, were granted a royal audience at Klaikangwon Palace in Hua Hin in the afternoon, where he personally conferred the award from the UN Develop-ment Programme, created to mark the occasion for the world's longest-reigning monarch.
"With this award, we hope to further promote the invaluable experiences and lessons learnt from Your Majesty's development endeavours and help draw attention to Your Majesty's visionary thinking beyond the borders of the Kingdom of Thailand," Annan said.
The King's countless rural development projects have been at the forefront of innovation and benefited millions of people across Thailand, he said. The royal projects have promoted small-scale agriculture, appropriate farming technologies, sustainable use of water resources, conservation, and flood and drought mitigation, he added.
As a visionary thinker, His Majesty has played an invaluable role in shaping the global development dialogue, he said.
"Your Majesty's 'sufficiency economy' philosophy, emphasising moderation, responsible consumption, and resilience to external shocks, is of great relevance worldwide during these times of rapid globalisation. It reinforces the United Nation's efforts to promote a people-centred and sustainable path of development," he said.
Before heading to the summer palace, Annan delivered the keynote speech at a high-level panel discussing "His Majesty the King and Human Development" at the Foreign Affairs Ministry.
Privy Council President Prem Tinsulanonda, in his opening address to the seminar, noted the King's lifelong dedication to bettering the welfare and livelihood of his subjects.
"Sixty years ago, at His Majesty's coronation in 1946, His Majesty articulated his overriding goal: 'We shall reign in righteousness for the benefit and happiness of the Siamese people'.
"Those words encapsulate the commitment of His Majesty to placing the people of Thailand at the very heart of his reign and at the centre of his initiatives," Prem said.
While the list of royal initiatives is endless, Prem reflected on His Majesty's four guiding principles imparted to the people for use in pursuing their lives and development: moderation in conducting one's affairs, perseverance in the face of hardship and suffering, individuality in identifying problems and selecting solutions, and cherishing the sense of being Thai.
Annan arrived in Bangkok on Thursday evening from Vietnam and leaves this morning for Hong Kong. Yesterday he met and lunched with caretaker Prime Minister Thaksin Shinawatra at Government House.
Sopaporn Kurz
The Nation
Sopaporn KurzThe Nation
Sopaporn KurzThe Nation